Making the connections
Martin Hyslop has had no shortage of employment opportunities since graduating from Otago Polytechnic.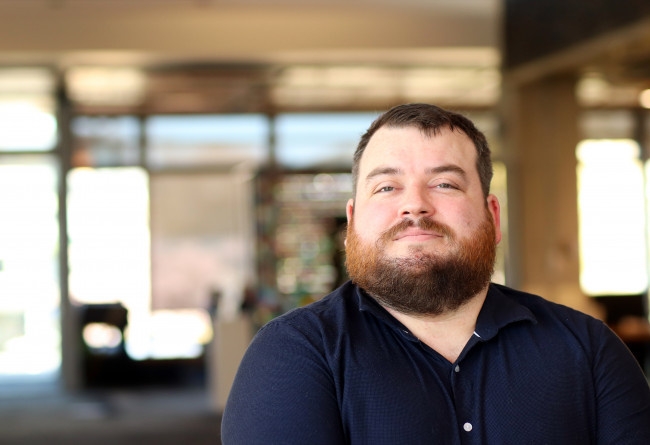 Because the Bachelor of Information Technology teaches you such a huge range of skills, it allowed me to go out into the industry as a generalist.
Martin has also made no shortage of connections in the seven years he has been out in the workforce.
"I was able to apply for almost everything because I had a foundation that Otago Polytechnic had helped build."
Now into his fourth job, Martin's journey includes a long flowchart of challenges: from maintaining servers, to working with databases, setting up new networks, corporate application support, and testing and implementing software.
He is currently working for John Holland Group, an Australian engineering and infrastructure company that has more than 6000 employees.
"I work with some incredible people.
"I started there in 2018 as a Contracting Technical Support Analyst. About a year and a-half later I was offered my current position, which is a Cloud Engineer.
"I deal with various cloud technologies, but still get to work as a generalist across a wide range of technologies. So I'm still utilising the wide skill-set I got from my Otago Polytechnic degree and have then built on through my career."
Martins says his family environment was a huge influence on his decision to pursue Information Technology.
"My dad – to this day – still tells my sister and I how over the moon he is that we are both working in I.T.
"Growing up, I was fascinated with computers, how games were made, and how the computer worked.
"My sister had completed Computer Science degree at Otago University and encouraged me to consider Otago Polytechnic's Bachelor of Information Technology and learn a broad range of skills that would open paths for me."
Martin says the programme's mix of hands-on, real-world learning along with theory suited him.
"I've always been someone who struggled to learn things by just reading. But I excelled at 'doing'. The Bachelor of Information Technology was the ideal balance.
"On top of that, I'm a very social person, so I enjoyed the many opportunities to collaborate with others as well as be an ad-hoc mentor or mentee.
"People often think of I.T. as an insular career. Yes, it involves technical aspects. But it also requires people skills, the ability to listen and adapt. It's actually quite social."
→
Bachelor of Information Technology
Develop high-level technical and problem-solving skills and a solid theoretical understanding of Information Technology concepts in this hands-on degree. If you have existing skills and knowledge due to practical experience in this area, you could study this programme via distance through Capable NZ (our recognition of prior learning centre). You may have already gained credits towards this qualification.