So many paths to follow
Rory Tinkler has just completed a Bachelor of Engineering Technology, and says his experience at Otago Polytechnic has opened his eyes to the possibilities of engineering and design.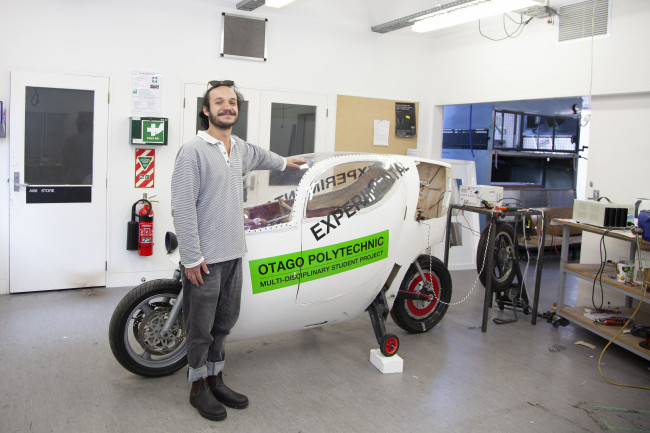 I've been shown that there are many tools out there that can be used to bring about a positive change in the way that we produce and develop the world.
Rory was involved in Otago Polytechnic's recent Engineering Technology Showcase, helping develop an electric motor for a prototype EV bike.
He says he got a broad range of benefits from the project.
"It gave me a good understanding of the different engineering tools and techniques that are available to manufacture varying electrical/mechanical machines.
"The skills I got from the project can be applied across different engineering disciplines.
"After completing the project, I feel as though I'll be able to use that knowledge to undergo my own engineering projects.
"All the staff were very helpful and I feel as though I could go into the Polytech at any time to ask about anything in the engineering field or use the workshop and be welcomed in."
Rory says a key challenge was, ultimately, getting the motor going.
"After undergoing research in the topic, we discovered there are a multitude of ways to produce a rotating magnetic field, which is needed to create rotary motion in an electric motor.
"I thought I could take the best design aspects from each of the different motor designs and combine them together to produce an effective and efficient motor. However, an electric motor is a very dynamic system and that was not the case.
"In the end, the most effective design had a balance of different elements, but there is still definitely room for improvement."
Rory now hopes to start up his own business in the sustainability sector.
"I'm especially interested in sustainable energy generation and sustainable land development/food production."
→
Bachelor of Engineering Technology
Become an engineering technologist! Learn engineering theory and the applied and practical skills required to work in a wide range of industries, and gain a deep understanding of your area of specialisation through an industry-based project. Mechanical, Civil and Electrical specialties available. If you have existing skills and knowledge due to practical experience in this area, you could study this programme via distance through Capable NZ (our recognition of prior learning centre). You may have already gained credits towards this qualification.