Women in Construction
---
There's a building boom coming to Otago and we need skilled workers. At the moment, women represent less than 10 per cent of the construction industry's skilled workforce. Let's change this!
There's a lot of money to be made in construction – it's a billion-dollar industry. Construction and Engineering are listed in the top-ten industries for NZ's biggest salaries and men hold over 90 per cent of these salaries. Why?
Forget about construction being an industry that requires only strength and brawn. Women can be successful builders, electricians, engineers and construction professionals – the construction industry needs a range of skills, many transferable from other industries.
Have you got the skills?
These are the types of roles where there's a skill shortage. Check out the skills required for these roles. Do you have them?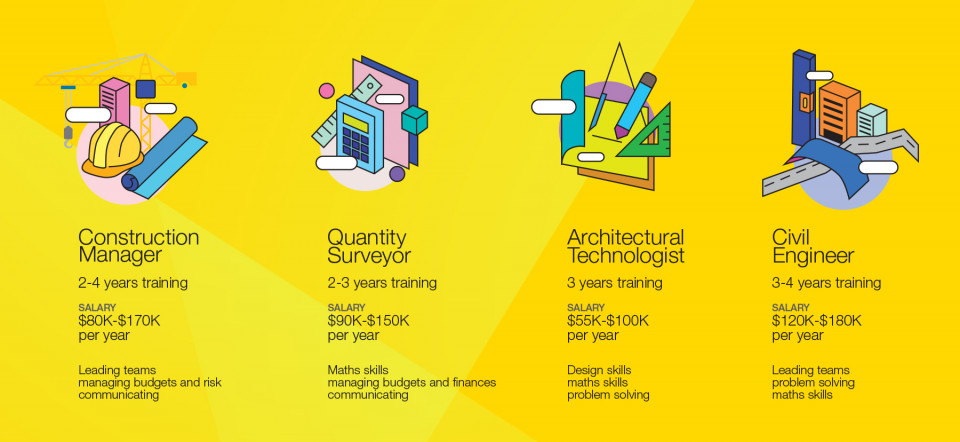 Salary info from www.careers.govt.nz
Hiring now!
Employers are desperate for skilled workers – we're short by about 60,000 – and employers are having to recruit workers from overseas. We're not just talking about building – these are positions from hands-on carpentry to top-level management.
Now's the time to get qualified and get your piece of the pie!

Want to study construction online?
Now you can! From 2020, we're offering the New Zealand Diploma in Construction (Level 6) (Construction Management) (Quantity Surveying) fully online through our partnership with the TANZ eCampus (specialists in online learning).
Flexible, easy to access and with your own learning advisor provided, this online programme can be integrated into any busy lifestyle. It's your time to take that next step.