Monitoring of Degree and Postgraduate Qualifications
Approval Date
1 April 2019
Approved By
Chief Executive
Responsibility
Deputy Chief Executive: Academic Delivery
Baldrige Criteria
Operations
Purpose
This policy outlines the monitoring process for degree and postgraduate qualifications at Otago Polytechnic Limited (Ltd). The monitoring process ensures that Otago Polytechnic Ltd's quality management systems are effective in relation to the approved qualification and to ensure that concerns and recommendations made in approval and accreditation reports by approval panels and subsequent monitors' reports are addressed. It also enables the sharing of professional advice relating to curriculum content, delivery, and assessment.
Policy
1. All approved Level 7 programmes leading to diplomas, degrees and related qualifications at Levels 7-10 will be subject to an annual monitoring process and will comply with New Zealand Qualifications Authority (NZQA) requirements.
2. There are two monitoring processes:
2.1. NZQA-managed monitoring for new programmes leading to diplomas, degrees, and related qualifications at levels 7 to 10 in the first years of delivery, and
2.2. Monitoring by Annual Programme Evaluation and Review report.
2.2.1. In this instance, the monitoring process is managed by Otago Polytechnic Ltd following application to and approval from NZQA for delegated responsibility for monitoring by Annual Programme Evaluation Report (APER) to manage the annual monitoring process. This includes the Otago Polytechnic Ltd appointment of an external monitor.
3. Where monitoring is by NZQA appointed monitor, the Head of College is responsible for ensuring visits occur annually in the first 3 - 4 months of the year. The first visit, which NZQA may attend along with the appointed monitor, usually occurs after the first year of programme delivery. Monitoring visits will occur annually until NZQA approves monitoring by APER.
4. Following each visit, the monitor will send a report to NZQA after checking factual accuracy with Otago Polytechnic Ltd. Heads of College are responsible for addressing the monitor's recommendations in the subsequent APER and/or by any date set by NZQA.
5. When the monitor considers that the programme and its delivery are stable and that all conditions for changing to self-monitoring status have been met, the monitor may recommend that Otago Polytechnic Ltd be invited by NZQA to apply for Monitoring by Annual Programme Evaluation and Review Report. This application must outline mechanisms to ensure independent, external academic input during reviews.
6. Where monitoring is by APER, the Director: Academic Excellence, following completion of the APER report and any Otago Polytechnic Ltd required meeting, prepares these for submission to NZQA by the required deadline each year.
7. The Head of College notifies the Director: Academic Excellence of impending monitor visits and arranges a meeting between the monitor and the Director: Academic Excellence.
8. The Head of College ensures that the Director: Academic Excellence receives a copy of the monitor's report.
Signature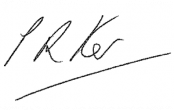 Approved by:
Phil Ker
Chief Executive
01/04/2019