5 Ways to Wellbeing
The Five Ways were created as a result of the New Economics foundations (NEF) Foresight Project on Mental Capital and Wellbeing research report.
NEF conducted a review of the most up-to-date evidence and found that building five actions into day-to-day lives is important for the wellbeing of individuals, families, communities and organisations.


The fives actions are:
It sounds too simple – right? But therein lies the beauty of it. You can introduce any of these evidence based actions into your life, anytime, and you will begin to feel the benefits.
Whakatōkia ngā rautaki māmā nei ki tō kia rongo ai koe o ngā painga.

Read the Five Ways to Wellbeing at Work toolkit, to get some ideas on how to begin, start small, work at it - and good luck
Tapuae Gym
All Dunedin based staff can improve their fitness, flexibility, and strength by joining our gym - free of charge.

Tap into your inner Arnie or Richard Simmons -you could even be assigned a student personal trainer or attend regular lunch time work – out classes.
How should I set up my home office?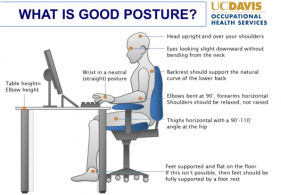 Whether working from home temporarily, permanently or from time to time it is important you use these simple tips to ensure your comfort.
How can we breathe better? - Tania Clifton- Smith Physiotherapist
To listen to Tania Clifton- Smith discuss common health concerns such as sleep apnea and allergies and how they relate to breathing on Newstalk ZB - The Weekend Collective.
The Good Mood Diet
| | |
| --- | --- |
| Find out about the link between gut health and mental wellbeing. | |
Nutrition and Mental Health
Learn what foods and nutrients should and should not be consumed to improve mental wellbeing via this free online course from the University of Canterbury
Summer Salad Recipe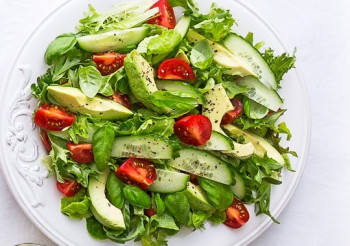 Crisp and creamy, this seasonal salad recipe is makes a delicious lunch or side dish.
Find the recipe here
Click here for other great recipes from Nutrition Foundation NZ
Leave
OP offers a range of leave options to help you take care of yourself and your whānau.
Taking your annual leave is an obvious choice to help you refresh and recharge but there are a number of leave options to be discovered here
Find out more about specific Otago Polytechnic leave opportunities by following these links:
For

Gift days
Professional Development Leave
Long Service
Wellness Day
Gifting of Sick Leave

For
Supporting you following illness or injury
We hope you don't get sick or hurt yourself but if you do, there are several ways we can support you to come back to work safely.




Support for standing desks- if you have a medical requirement for a standing desk, you can create a service case to Campus Services or Health and Safety Team for assistance.

Create a service case


Bend and stretch!
Visit the Stretch Library with Ash to be guided through stretches that are ideal for helping you to stay comfortable at work.




Stretch now!
Vision care, beauty therapy and health insurance
Eye tests
Our Vision Care Policy provides a subsidy for eye tests, safety glasses and prescription lenses for computer use.

Polybikes
I want to ride my bicycle- I want to ride it …… around campus and into town!
Well - lucky for you we have Poly bikes


Discounted Beauty Therapy treatments
Support our learners and receive a reviving treatment at a great price.

Contact: BeautyTherapy@op.ac.nz.


Discounted Hairdressing styling
Support our learners and treat your locks for a great price.

Contact: Hairdressing@op.ac.nz


Health Insurance
Find out about an option to protect yourself and your immediate family against the high cost of unexpected medical expenses with Subsidised Health insurance