Strength Based Personal Development Tool
Here is a simple tool you can use to help you have conversations around strengths and development with your team members or also a great one to use on yourself
Suzi McAlpine (The Art of Leadership) calls it the Sweet Spot Development Model:
In line with our vision that our people make a better world we strive to incorporate OP values into our daily work lives.
Māori Development and Kaitohutohu Office can assist with your connection to the priorities of the Māori Strategic Framework.
Our Chaplains provide a range of pastoral care and spiritual services for staff, students and groups.
If you are coping with grief or a sudden change in life if you would like to talk about spiritual discovery or if you would just like someone to listen.
Tāha wairua in the workplace
Taha wairua – spiritual wellbeing can be but is not limited to an expression of faith. Your wairua could be expressed in any of the following ways.

Expression of cultural values and practices
Attitudes to racism and discrimination
Access to marae and cultural resources
Perception of safety
Attitudes to disability
Sense of peace or contentment
Definition of dignity and respect
Connection to a bigger meaning or purpose
There are a variety of communities of practice and interest here at Otago Polytechnic and externally, that we network with. If you would like to discuss these topics further or learn more about them, check out this directory to find special interest groups.
Spiritual Self-Care
It has been found that nurturing your spirit through purpose and fulfilment helps to create a healthier lifestyle.
These are suggestions of activities that have been found to support spiritual self-care when engaged with regularly. Some of these activities may not appeal to you at all, while some may be things you would like to do more often or become better at.
Allow quiet time for reflection
Spend time in nature
Find a spiritual connection or community
Be open to inspiration
Cherish optimism and hope
Be aware of non-material aspects of life
Try at times not to be in charge or be the expert
Be open to not knowing
Identify what is meaningful to you and notice its place in you life
Appreciate beauty (eg music, art, literature, nature)
Practice gratitude
Meditate
Have experiences of awe
Contribute to causes in which you believe (eg charity, community)
Read inspirational literature or listen to inspirational talks, music
The Circle of Concern and the Circle of Influence
In the book The 7 Habits of Highly Effective People, Stephen R Covey talks about the Circle of Concern and the Circle of Influence.
The Circle of Concern includes the wide range of concerns you have in your work and life- including health, family, finances, government decisions etc. Everything you include inside the circle is a concern and matters to you and everything outside the circle is of little concern to you.
The challenge with your concerns is that some of these may be outside your control or influence e.g. the national economy or the health of a friend.
Therefore it is important to identify your Circle of Influence within your Circle of Concern. These are the things you can do something about, e.g. your personal debt is a concern you can influence to some extent by making and sticking to a budget, however you have no direct influence over the nation's debt though it may be of concern to you.
How do you know when your work/life balance is out of kilter?
Are you expending greater energy on things that are concerning but cannot influence or are you actively influencing the things in your life that you can control?
Complete the Circles for yourself - as you are feeling today. This will help you to identify what is draining you and conversely where it is worthwhile to spend your energy.
Circle of Concern and Influence exercise for individuals, teams or whānau.
Connect Cards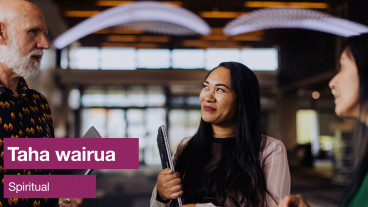 Below is a link to Connect Cards. These cards can be a resource where people can consider these topics and use them as a personal reflective tool.
If you would then like to discuss these reflections with one of our chaplains, you can contact them:
maori.chaplain@op.ac.nz or chaplain@op.ac.nz
Interfaith Prayer room
One of OP's best kept secrets is a room for staff or learners who need a quiet space to meditate, pray or just some time out to rest the soul.

Located in G Block, room G310 (opposite the lifts).

Learner art work
| | |
| --- | --- |
| | Enjoy our Learner art work and art work from our community proudly displayed throughout the Dunedin Campus. |
Development
Take part in this series of four one-hour workshops.

They provide an environment for people to kōrero and practice correctly pronouncing Te Reo Māori greetings and farewells, kupu specific to your rōpū, phrases and your mihi/pepeha.

Find out more and enrol

Te Ao Māori
Leadership support and training
Whether you are a new leader or have been around the block there are a variety of resources to support, sustain and guide you.
Coaching and Mentoring
| | |
| --- | --- |
| | This resource provides information on the core elements of coaching and mentoring, and how to decide the type of support that works best for you or that you can offer to a colleague. |