You can find a summary of our emergency procedures on the Emergency Procedures flipchart, located in most areas around campus. This is what it looks like.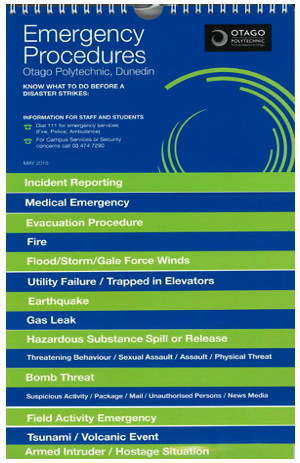 If you need immediate help from the emergency services, call 111 first before alerting Otago Polytechnic.
You can also contact the Campus Cop - located at the University of Otago (campus.cop@otago.ac.nz or 021 190 5950).
Information about Campus Watch can be found by clicking here.
Fire Evacuation Assembly Points - Dunedin Campus
Assembly point
Building
G Block Car Park
D Block
F Block
G Block
H Block
Manaaki
S Block
St David Street
B Block
TPO & Poho
Forth Street adjacent to the delivery point for the boiler house
A Block
Forth Street Car Park
Polykids
Sargood Tennis Centre and Sport Otago
Z Block
Sargood
Reigo Street (Art Precinct)
N Block
O Block
P Block
Anzac Avenue entrance
L Block
Kanazawa
Parry Street
Prefab
(behind L Block barn)
Building Sites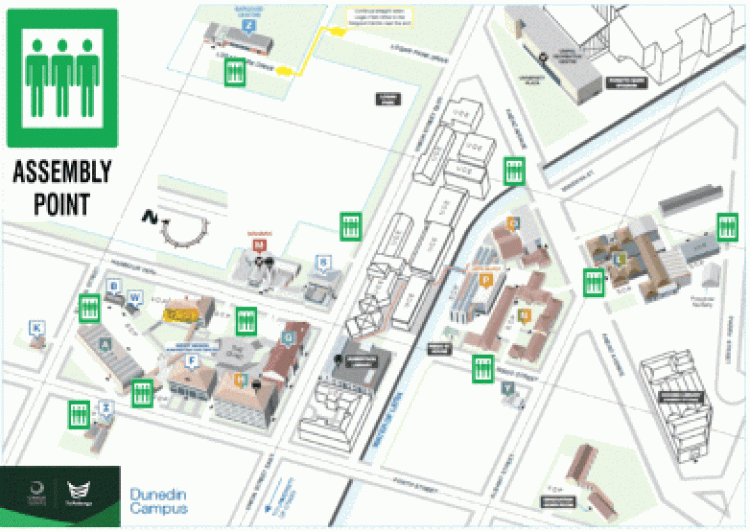 Get in touch
If you need help or support in relation to these procedures, please reach out to us.