Kia ora, welcome to Otago Polytechnic
The best thing about Otago Polytechnic, is you actually get to learn by doing.
Training | Making | Creating | Building | Designing | Study your way.

Ask any of our graduates and they'll tell you our 'learn by doing' approach makes for a memorable and valuable study experience - experience which makes our graduates highly sought-after.
With over 150+ programmes ranging from certificates to degrees and doctorates, you can study knowing your chosen course will give you the quality education you need to fit within your study aspirations.
Most importantly, when you graduate you're ready to take a step towards your future career. No matter where you go, or what your study, you can be confident that you know exactly what you're doing, and can start adding value.Our programmes are designed with employers and industry partners, so we teach the skills that they need and look for.
Let
'
s keep in touch!
Why study, what to study, where to study?
Let us help you figure our your next big step. Sign up to find out all there is to know about studying at Otago Polytechnic.


Why study at Otago Polytechnic?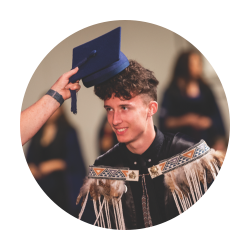 QUALITY
EDUCATION
---
We have 150+ programmes of study, from certificate to doctorate, and everything in between. Our average teacher-to-student ration is 1:16, so you'll be well supported academically.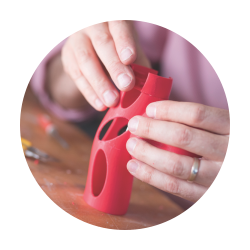 HANDS ON
LEARNING
---
Our programmes are tailored to the needs of industry. Our students work on real projects in real workplaces. You learn by doing, which gives you the experience future employers are looking for.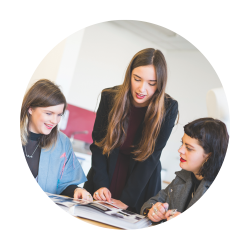 STUDENT
SUCCESS
---
Our learners are the heart of everything we do. Enjoy a friendly place to study and teachers who are with you every step of the way. Plus, a great range of facilities, services and support.



Choose where to study
Classrooms don't have to be lecture theatres and study rooms - at least not on our campus they're not.


Our students get the best of the best when it comes to programme-specific facilities and training services.
As well as our on campus locations, we also offer other forms of learning so you can have a choice about what, when, where and how you learn!


Explore what each campus has to offer.
Dunedin
---
Dunedin Campus

Our Dunedin Campus is located right in the heart of the student district – really close to the city centre.


We have bright open spaces, modern facilities and our own café and restaurant. The Hub is the heart of the campus and is a great place to relax, eat, hang out and meet people.
There's free WiFi and computer labs across campus and the library is right next door – easy! Along with study rooms and classrooms, we have a range of specialist training spaces.
Central Otago
---
Central Otago Campus

Central Otago (or 'Central' as it's known by the locals) offers the ultimate in lifestyle living, playing, working and studying!


Central is as much home to the relaxed, the laid back, the outdoor adventurers and the foodies as it is to the innovators, collaborators and entrepreneurs. Striking landscapes of mountains, rivers, lakes and tussocks provide a playground for the energetic and inspiration for the artistic.
Our Central Otago Campus offers a unique student experience in one of the most beautiful regions of New Zealand. The philosophy of our boutique campus reflects not only the pace of life here but also new flexible thinking and innovation. Programmes offered are tailored to the location and the needs of local industries – giving you study options such as cookery with a regional focus and stonemasonry using the schist that this region is built on.
Other
---
Other types of learning
Other types of learning
As well as our on campus locations, we offer other forms of learning so you can have a choice about what, when, where and how you learn!


Fully online
Online learning is ideal for those who need to study flexibly. We offer several fully online programmes and are in partnership with eCampus NZ who offer a range of online certificates and diplomas.

Visit eCampusNZ.com
Online with...
Some programmes have a blend of online learning with things like block courses (held on campus or at other locations), work/fieldwork placements and local tutorials.
Work-based learning
Capable NZ is all about valuing your work and life experience. They recognise what you already know and support you to gain a NZQA qualification in a reduced amount of time.

Visit capable.nz
Apprenticeships
Study while on-the-job! You'll sometimes need to attend night classes, block courses and do some study outside of work. Internships, a great chance to get some experience in a real-world organisation.
Often, you'll be given a research project to complete for the employer and this will form part of your course work.
Useful resources and Events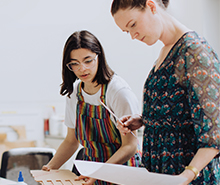 2022 Programme Guide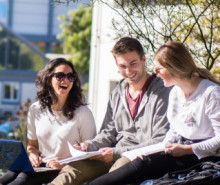 School Subject Selection Guide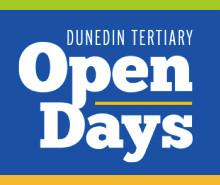 Tertiary Open Days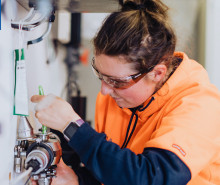 Dunedin Careers Expo
Want to explore more?
Get a first hand-look at what we have to offer with a guided tour of our Dunedin campus. Our Liaison team can tailor your visit to include specific study areas and facilities you're interested in.
Meet students, talk to teachers and learn about the great support services we have to offer.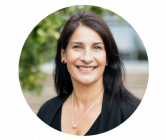 Carly Nesbit
Liaison Advisor
Steph Kerslake
Liaison Advisor