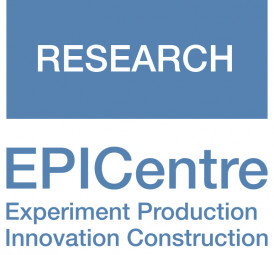 Experiment Production Innovation Construction

EPICentre is a multidisciplinary workshop studio, available to staff and students as a research facility. It has a focus on education and is a dedicated resource to deliver practical research that solves real world problems.
The facility will be particularly relevant for staff and student researchers in the disciplines of art, design, information technology, occupational therapy, and engineering technology and trades.

What can you do at EPICentre?

Here you can design and build whatever you need for your project. EPICentre is equipped with a range of machine and digital tools. Our experienced technicians, Ken Wyber and William Early, are available to train workshop users in techniques and health and safety, and provide advice and supervision to help you achieve your desired outcome.
Available technologies include:
laser cutting, water jet cutting, 3D printing
How to book EPICentre?

Phone 021 938 781 or, if you're a student, ask your lecturer to book your class in for an introductory tour of EPICentre.
HOURS
7.30am - 5.00pm Monday to Thursday and 7.30am - 12 noon Fridays or by arrangement

LOCATION: A114, ground floor of A Block, Dunedin campus